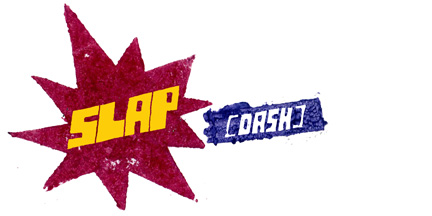 About
Slap Dash is a monthly series that brings together different art forms for a semi-cohesive mixed-media extravaganza. If you make art, and you want to show it off,
contact us
.
Slap Dash takes place on the fourth Saturday of each month @ LaunchPad, a community art space in Crown Heights, Brooklyn. All events are FREE to the public and all ages.
LaunchPad
721 Franklin Avenue
Brooklyn, NY 11238
718-928-7112
Franklin Ave Shuttle (S) to Park Pl.
2/3/4/5 to Franklin Ave.
C to Franklin Ave.
Mailing List
Submit to Slap Dash
Slap Dash is seeking submissions for upcoming events. Please send an e-mail to
slapdashbk@gmail.com
, with ideas/suggestions/descriptions/samples/whatever. No need for anything formal. Upcoming themes (you can also suggest your own):
Saturday, September 29th - Death @ 8pm
::
ANIMATION
Tessa Farmer
::::
POETRY
JD Scott
::::::
VIDEO
mindtroll
(rare video-only performance)
::::::::
AUDIO
Brad Alston
::::::::::
PERFORMANCE
Julianna Schley
:::::::::::: MORE TBA - Contact Us
Death is sad, death is mysterious, death is funny, death is fascinating and death is weird. This month, with the help of some amazing animators, poets, video-artists, performance artists and audio-artists, we will try to look at death from every angle.
Also featuring home brewed beer by Honest Pete